Aquatic Therapy, Traction, Rehabilitation, Recovery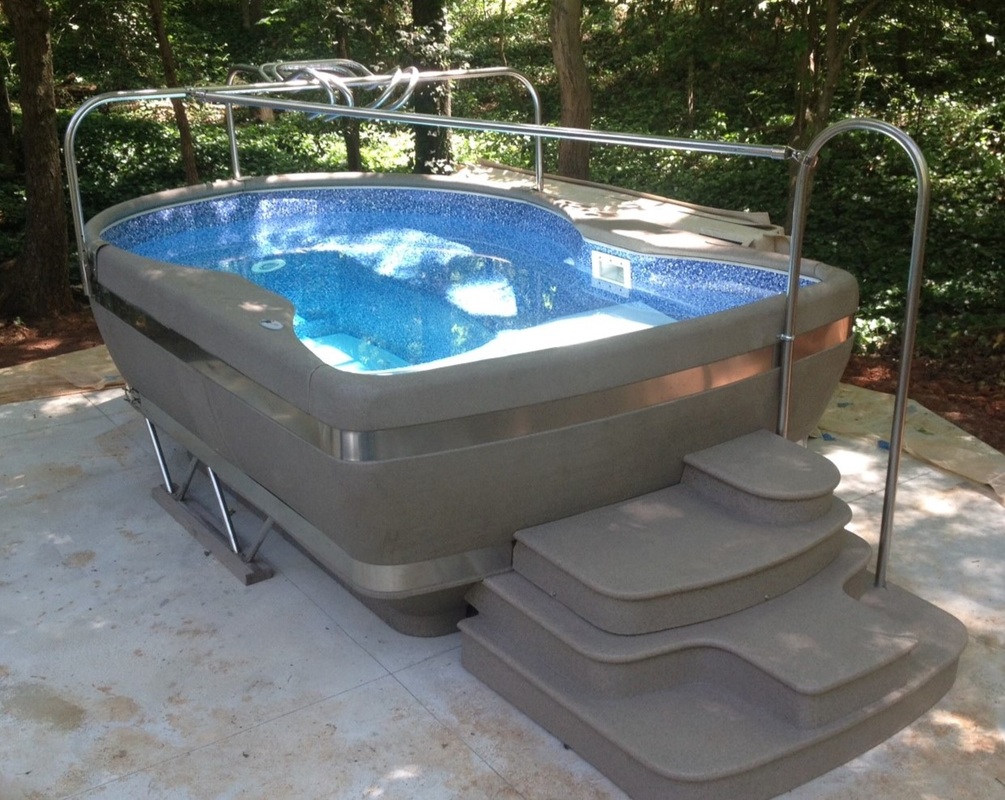 Peter G. Hold - Innovator/Owner 928-300-9800

The Vertical Pool was inspired by the anticipated need of returning wounded veterans who could benefit daily, conveniently, and privately from an aquatic therapy rehab DME device at home. This would provide heated, filtered, sanitized water at one's preferred temperature for traction and exercises in vertical (5' 6" water depth), horizontal (8' 10" water surface length), and seated (1 seat either side at the stern) positions. Comprised of multiple light-weight parts (which can be crated and shipped anywhere in the world), this pool can be carried into or through existing structures and installed in garages, back yards, basements, even hillsides. A footprint of only 6' 2" wide x 12' long (including the entry steps at the stern), and under 900 gallons, this versatile pool is efficient in energy, water, and space. Overhead and underwater grab bars, Hoyer lift access/egress capability, swim-in-place support frame (The Swimhorse), and "patient assistance from the outside perimeter" are some more of The Vertical Pool's virtues. Interestingly, while created with the veterans of any and all conflicts in mind, the market has turned out to be women.

Note on hygiene; for many who have difficulty showering/bathing, a sanitized pool in which they can soak away potential skin issues and discomforts is most appealing.
Then, a gallon jug of fresh water, left in the sun while using the pool, can be used to rinse off from head to toe upon exiting.

$11,800 delivered/installed complete in the continental U.S.

Slide show below;

Why The Vertical Pool by Molly Hale

Having an easily accessible pool at home has changed my world. Dealing with quadriplegia since 1995, I have relied on distant public facilities for the freedom of my pool time. Now, the only driving I have to do involves rolling out my back door and getting into my crystal clear, warm water pool whenever I like. I move, I float, I sing, I dream …. oh, and I exercise …. and heal. I'm loving my full-body tan. No swimsuits needed in this private, convenient and perfect environment!

| | |
| --- | --- |
| | In researching modular, multi-piece pools, The Vertical Pool was clearly the winner. Affordable, well designed structurally and mechanically, it won't crack (good idea here in California with our quakes), well insulated and the pool can be moved or re-homed if needed. Installation can be outdoors or indoors, including in a basement or garage or on a hillside! Like most small pools there's an insulated cover (which I creatively manage myself), and seats to indulge Jeramy and I together, when we aren't exercising or dancing. Yes, dancing… in an upright posture as a couple. Lovely. |
| | |
| --- | --- |
| The Vertical Pool has unique virtues developed through input from water therapy professionals. It is designed to the height, length, and reach of the human body, which translates to efficiency in energy usage, quantity of water required and the space needed for installation. The deep part of the basin is a 5' 4" water level allowing suspended exercising and an adjustable height floor allows weight-bearing activities. I particularly like the overhead and underwater exercise bars for stability in a variety of movements. | |
| | |
| --- | --- |
| | The side of the pool is sturdy and easy to sit on, which is how I get in and, while I don't use a lift, it is beneficial that a lift can be used if needed for access/egress. The Swimhorse support frame, usable in any pool, lets me swim in place, or just meditate lying on my back, still fully immersed in the warmth of the water. Jeramy can help me with adjustments and equipment from the outside perimeter of the pool which is convenient for us both. We are both enthralled with The Vertical Pool as it supports our health, strength, relaxation and joy of living. |
For years, I have been mentoring people with traumatic injuries, supporting the maximizing of their recovery through our non-profit AbilityProduction. The warm water pool environment is a vital tool and beneficial in hygienic ways from daily soaks. Most communities have nothing like this to offer. Without access to a warm water pool, some of my most successful therapies cannot be utilized. The Vertical Pool opens up the possibility for individuals, groups and therapy offices to have a tidy, warm water pool at an affordable investment. Often times, community fundraisers can make this happen. Molly 2/10/15
One design virtue of this DME pool is exemplified in a "use it through" philosophy; the device can be "rehomed" over and over in different locations. Each reinstallation requires a factory-new liner. Water volume is less than 900 gallons for all this versatility, a critical feature in a drought-prone climate. We must rethink the way we are consuming the planet in this, the 21st century.

To swim in place, The Swimhorse, below, is included in the purchase.

A support device enabling people of all physical abilities the chance to swim in place without the fear of sinking.
www.theswimhorse.com

---
Proud sponsor of, donator to, and product provider for;
www.vetpools.org
Aquatic Therapy Foundation, Inc. is a nonprofit organization, under IRS Section 501(c)(3) public charity. Contributions to Aquatic Therapy Foundation may qualify as a charitable deduction for federal income tax purposes, to the extent permitted by law. Please consult your with your tax advisor. Federal Tax ID # 46-2669527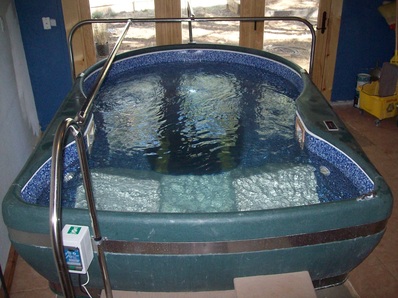 Build-anywhere Pool
Construct outdoors, hillside, basement, garage, indoors in rooms as small as 10' by 12'. The pool is 9' 4" long, 6' 2" wide, and 6' deep (5' 4" water depth in the deep section). 2' 8" at stern for the entry steps = 12' overall length in footprint. Allow additional 4' along one side if using a Hoyer type lift for access.

---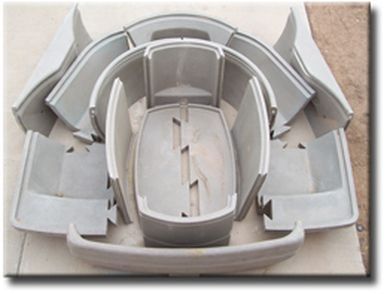 Portable Pool
Comprised of light-weight parts, easily moved into or through buildings, this pool can be installed in difficult-to-access sites, down or up stairs, garages, and even on hillsides.
Total dry weight of all parts and components is 900 lbs for transport in one pickup truck.
For international transport and delivery the pool crated is 4' x 7' x 6', or about 168 cubic feet. Crated weight about 1000 lbs. See pic of crated pool on specs page.

---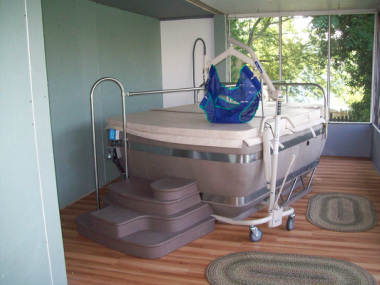 Enabled Access Pool
A Hoyer or Smartlift can raise patients from wheel chair or bed and lower them onto the seat in the pool, accessible from either side.
The extended "feet" of the lift slip into
cavities under the seats and steps.


---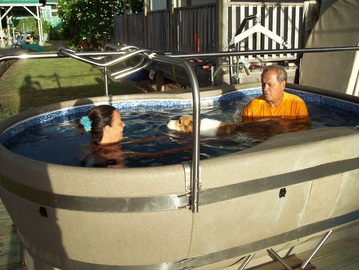 Dog Therapy Pool
If the pooch can't go for a walk, due to trauma or physical restriction, then take him for a swim .... and it's great for weight reduction as well.
See top of Resources page for a 20 picture slide show of dogs in the pool at New Beginnings Therapy Center, Waimanalo, Hawaii.


---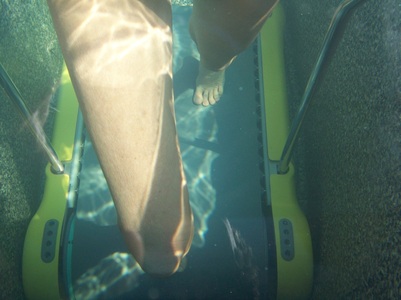 Treadmill Pool
Whether rent or purchase, the optional
treadmill (
www.aquabilt.com
) complements the pool for vertical exercise.
Adjustable in height and removable, this device accommodates most people.
---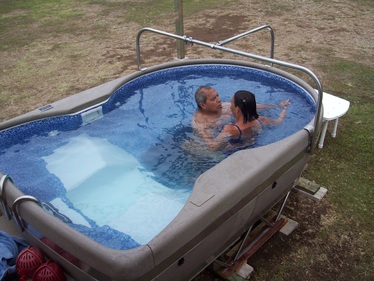 Social Pool


.... and ....

.... most of all ....

.... don't forget ....

.... to dance!



"A DEARTH OF VOLUME FOR A PLETHORA OF FUNCTION"

Peter G. Hold

---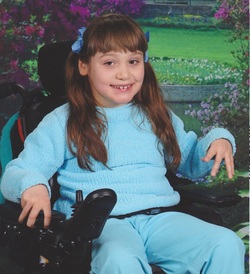 "We have The Vertical Pool at our home, the best durable medical equipment ever for our health... me with quadriplegia, my husband with normal aging. Great good fortune on acquiring the pool. It will be life altering for Aubri's muscles, tendons and ligaments and will change her spasticity for the better." Molly and Jeramy Hale

Aubri gets her pool!



---