PH: 928-300-9800
This healing pool can be installed in a basement,
garage, or even on a hillside (irregular terrain).
Rent/Lease
The rent/lease option is presently being offered only in southern California due to the expense of delivery, installation, and the fact that insurance companies do not yet cover an in-home DME device like The Vertical Pool. Please call for pricing and possibilities. 938-300-9800

Purchase
$11,800 Delivered and installed complete (continental US)
The actual installations of this pool are best served when the ambient temperature on that
day is above 70 degrees to facilitate installing and stretching the liner into place.
What is included with a purchase;
- 16 molded, foam-insulated parts comprising pool body
- 4 stainless steel straps to gird the parts in place
- Vinyl liner (blue and white)
- Pump, heater, computer control with topside buttons (for pump
speed,
heat setting, light)
- 50 sq. ft. canister filter, suction and supply manifolds
- Dual skimmers with vacuum hose
- Molded steps for entry end
- Stainless entry railing, connector bar, cross and bow bars
- 2 moveable exercise grab bars and 1 hand held massage tool
- Adjustable-height floor (removable)
- 3-piece insulated, locking cover
- The Swimhorse; www.theswimhorse.com
- 4 liner spreaders (to facilitate keeping the liner in place and smoother when refilling)
The Vertical Pool does not recommend a specific method for water sanitation.
Many options are available and most can be added to this device. Be sure to research, even talk to your doctor, and select the option best for you!
International shipping:
Crated, the pool is 4' x 7' x 6' = 168 cubic feet @ 1000 lbs.
All components warrantied for one year from installation date.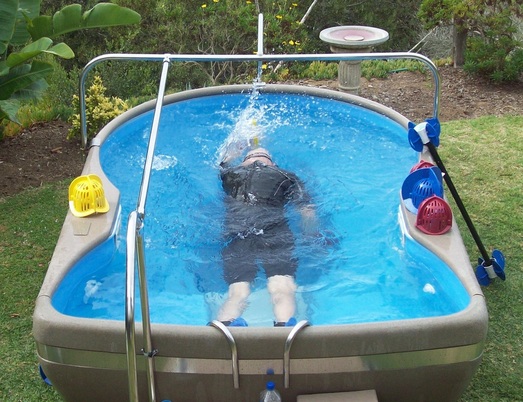 It's not about the money, it's about the healing!

Peter G. Hold