The Vertical Pool has lost a dear friend. Ellie Ryan, grandmother of Aubri, lost her battle with cancer on 10/28/16. She was an absolute pistol! She will be greatly missed and always remembered. Thank you Ellie!
Aubri got her pool in May of 2014 and has been improving her physical well-being with regular daily exercises and movements.
A surprising development has been her ability to project vocally with more volume, power, and clarity when in a vertical position. While upright in the pool (she cannot stand on her own) her diaphragm is not pushing up into her lungs, as is true when seated, which allows her to achieve deeper breath and better projection.

Testimonials
"The best small pool available for home aquatic exercise and traction."
Igor Burdenko
www.burdenko.com
"The first woman to experience this new product, and dedicated to wellness, I was
impressed with the compact versatility." Evelyne Huegi
www.swissclinique.com
"A great device for weight loss, with the overhead bar and multi-faceted design, I dropped over 70 pounds in 5 months." Ricky Summers
"Rehabilitation in water. the ultimate therapy environment, The Vertical Pool brings this possibility to the individual" Vince Newman
www.wpts.net
"We will be forever thankful to Peter and his design of The Vertical Pool" Dave, SC.
I am grateful to you every day for designing and installing my pool. Deb, MD.
Still love my pool and crystal clear water! Helen; SC.
We are quite happy with 'tug'. (Our name for The Vertical Pool) Sabrina, HI.
Loving every minute in my pool. Great to plop in at the end of the day. Linda, HI.
It is impossible to find any other activity in my granddaughters day when she has more freedom, fun, and enjoyment than when Aubriahna is in The Vertical Pool. The benefits have way surpassed any other therapies available to her in the past or present. Thank you Peter!
Ellie, SC.
We are both enthralled with The Vertical Pool as it supports our health, strength, relaxation and joy of living. Molly, CA
You really should change the name of your pool to "The Miracle Pool"! Thank you, thank you!
​ Kaarin, TX.
Below; Molly and Jeramy in their pool.
Below; Hawaii
New Beginnings Therapy Center and The Vertical Pool
Waimanalo, Oahu

Below; Jeramy performs some water yoga.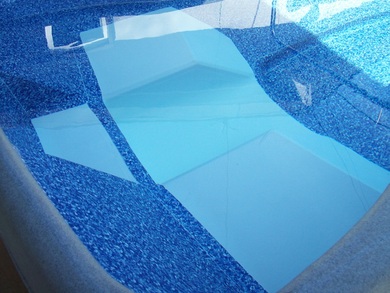 Both models of this pool have
two seats in the entry end. The
shallow version shown here (it
requires no digging and can sit
on the patio, garage floor, or
even indoors) and the deep pool
(which requires a 3' x 5' x 3' deep
hole in the deck, lawn, or floor).

---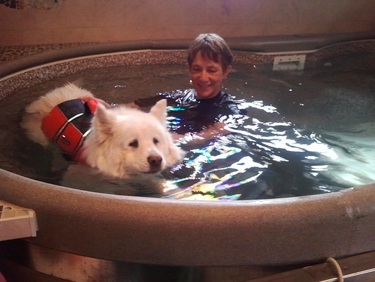 Lynnie Ford working with Java
at Wag Wellness in Bothell, WA.

---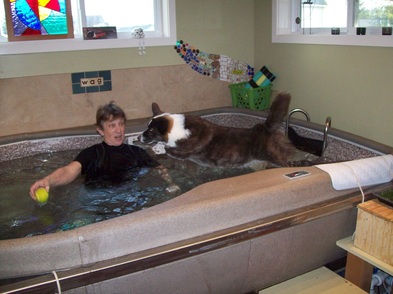 Jordan doing his internationally famous swan dive into the pool.
No one told him "Corgis don't swim"!

---
The Ultimate Resource for Everything Cerebral Palsy
(Information, Resources, Experts and Inspiration)
Call 1-800-MyChild (1-800-692-4453) today!
www.MyChildwithCP.com

Watch YouTube videos featuring different users and activities:
Young Woman with Cerebral Palsy can walk in http://www.youtube.com/watch?v=DJkLo9by6uU
The Vertical Pool but not on land: http://youtu.be/DsFupLKVfkY
Swimming lesson for child overcoming water fear: http://youtu.be/vSgRAp5qcwM
Weight Loss Exercise Without Joint Damage for People of Size: http://youtu.be/3rkBWavJLL8
Family Fun in The Vertical Pool: http://youtu.be/4aKyNCOqYWY
6' 2" Man can do full extension bicycle exercise in The Vertical Pool: http://youtu.be/nH_N-Oqf6G4
Aquabilt Treadmill use in The Vertical Pool: http://youtu.be/j4nsXls5tK4
Cat Fitness Program: http://youtu.be/dKyRsbmWGoM
Gymastics/Somersaults: http://youtu.be/Th5-ZWrffrg
Leg, Waist & Core Exercises: http://youtu.be/rc-xJqnteyI
Post Surgical Core Exercise after receiving medical clearance: http://youtu.be/Q5rK1vHV43c